ALBANY
After 18 years in business, Northeastern Fine Jewelry opened a second store at 1575 Western Avenue in Guilderland. In order to support a broadening customer base, this store sits conveniently just off the Northway and less than a mile from Crossgates Mall.
Northeastern Fine Jewelry's Albany location is the Capital Region's exclusive dealer of many of the world's most sought after brands in jewelry and watches.
Northeastern Fine Jewelry
1575 Western Avenue Albany, NY 12203
Phone: 518-862-9441
Get directions:
View Map
Hours of Operation:
MON-WED- 10AM-6PM
THURS - 10AM-7PM
FRIDAY - 10AM-6PM
SAT - 10AM-5PM
SUN - CLOSED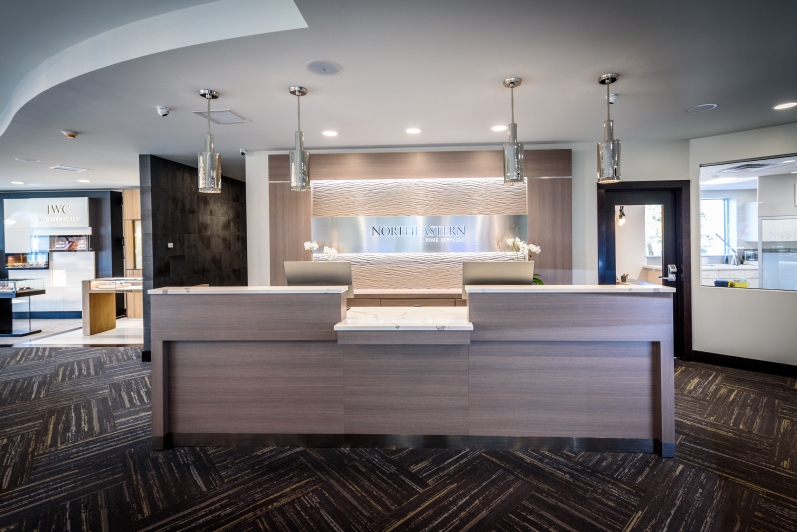 Albany in New York is one of the oldest European settlements in North America, and the brilliant history of this city reflects the diverse array of people who have lived here, from the Dutch and English settlers who birthed the United States to the thousands of immigrants who made their way here afterward.
Originally called Beverwijck by Dutch colonists, the English renamed the town to Albany after their victory in 1664. However, the city would change hands multiple times before it became known as the capital of the state of New York. In 1797, Albany was named the official capital of New York, and since then, it's remained a glittering jewel of culture, science, and trade for the Northeast. The city has found itself the hub of many historical milestones, including the creation of the Erie Canal and some of the world's first railroad systems.
And speaking of glittering jewels, Northeastern Fine Jewelry has been a fixture of Albany since 1998, and we strive to offer the finest selections of bridal and fashion jewelry, as well as Swiss-quality timepieces, to the men and women of Albany.
Brands Available at Northeastern Fine Jewelry in Albany
Tacori, Simon G., and Michael M are just a few of the designers whose engagement rings are ideal for asking "Will you marry me?". When you're looking to complete your bridal set with wedding bands with luster and charm, explore our showcases filled with bands from top brands like Amden, Hearts on Fire, ArtCarved, and CrownRing. If you're in the market for a refined timepiece, you can't do much better than the atelier designs of Cartier, Panerai, and IWC, Omega, Breitling. When you visit Northeastern Fine Jewelry, you visit a showroom built on a passion for design.
Services Offered at Our Albany Jewelry Store
With seven full-time team members who are dedicated to jewelry repair, Northeastern Fine Jewelry should be your first stop when you're in need of trustworthy, professional maintenance. Our goal, as it's been since the day we opened our first showroom, is to ensure that you're always happy with the courteous service we provide. Our three full-time jewelers and service coordinators are always ready to guide you in the right direction. And of course, our service director is on-call seven days a week, so no matter what your questions are, they'll be addressed quickly!
And don't think that when you buy a timepiece from Northeastern Fine Jewelry, the story ends there! Our watchmaker, Umberto, has the experience and passion for the craft that ensures that he'll be able to keep your watch ticking along for decades. Whether your timepiece is a new watch you've purchased from us or a vintage piece you've inherited, you can be confident that we'll be able to maintain it.
We're also phenomenally proud of our ability to sculpt custom jewelry for our customers. When you come into Northeastern Fine Jewelry, you're set to work with Hike Bagramian, the lead designer for Northeastern Fine Jewelry. Hike has honed his craft over 17 years by learning from experts in the craft, including Vladimer Mann and Paul Abraham. His skill set includes rare and exotic design methods, which means that no matter what your dreams of custom jewelry look like, we'll be able to bring them to life!
Shop at Northeastern Fine Jewelry in Albany, New York
Northeastern Fine Jewelry was founded in 1980, and our Albany store was opened 18 years later—a sign, we think, of the bright future of our business. We've achieved success by bringing only top-shelf jewelry and timepieces to our customers and treating them with consideration and respect. Our bridal jewelry never fail to impress and our fashion jewelry options, including bracelets, necklaces, earrings, and fashion rings, have the glamor every woman adores. If you're interested in what we have to offer, contact us at 518-862-9441 or visit us at our Albany, New York location today! Alternatively, don't forget that we have showrooms in Schenectady and Glens Falls too!