JEWELRY REPAIR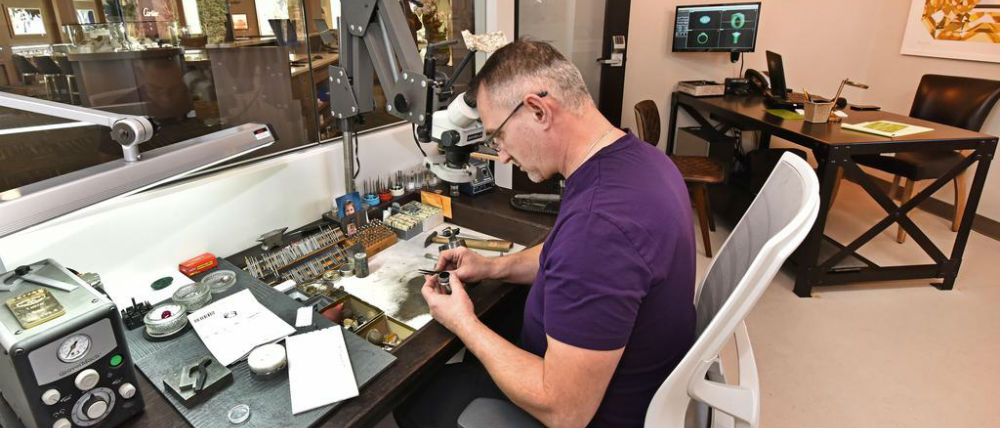 Jewelry Repair at Northeastern Fine Jewelry in New York
The jeweler of choice for "the city that lights and hauls the world," Northeastern Fine Jewelry is Schenectady's jewelry repair specialists. We are committed to the prospect of providing you with the highest-quality jewelry repairs available in Upstate New York.

At Northeastern Fine Jewelry, you will find an experienced staff of employees who've been trained to serve your unique jewelry needs. No matter whether you're coming into one of our showrooms to have your old jewelry repaired, or you've come to have a new piece serviced, you can trust that our three master jewelers and master watchmaker will treat your jewelry with the kind of respect that you treat your jewelry with.
Trusted Jewelry Repair Services at Northeastern Fine Jewelry
Since 1980, Northeastern Fine Jewelry has been the premier jeweler of not only Schenectady, but also Glen Falls, Albany, and New York City. Our decades of experience in the jewelry industry have allowed us to stay at the cutting edge of technology and repair. You can trust Northeastern Fine Jewelry for in-house full-service jewelry and timepiece maintenance. Our wide selection of useful services includes:

A service director available seven days a week to answer all your questions and concerns Full-service and in-store jewelry repair Three full-time jewelers and one full-time watchmaker in house Pearl and bead stringing Welding and soldering using cutting-edge laser welding technology

The process of jewelry repair, however, isn't a factory-line process. Your jewelry is our responsibility, and we respect that responsibility. Our service coordinators will inspect and thoroughly detail your piece, detailing everything in our computer system. A picture will even be taken of your jewelry for the sake of your peace of mind. Your piece is placed in a secure envelope with an individually numbered, computer-generated card, signed by you and then locked safely in our vault. Our jeweler will even thoroughly clean and examine your jewelry before starting their work on your piece!
Guaranteed Satisfaction with Your Jewelry Repair
Your first choice for jewelry repair and maintenance, Northeastern Fine Jewelry was founded on the unconditional promise of delivering satisfaction to our customers. That creed takes the form of jewelry repair, but it also means that we're the Capital Region's premier choice for new jewelry as well. Whether you're in the market for designer bridal jewelry, luxury Swiss-quality timepieces, fashion jewelry, or even GIA-certified diamonds, trust Northeastern Fine Jewelry to pair you with a new treasure.

For more information on the jewelry repair services available at Northeastern Fine Jewelry, please call 518-372-3604, head over to our "Contact Us" page, or visit us at any of our showrooms in Schenectady, Albany, New York City, or Glen Falls, New York today!