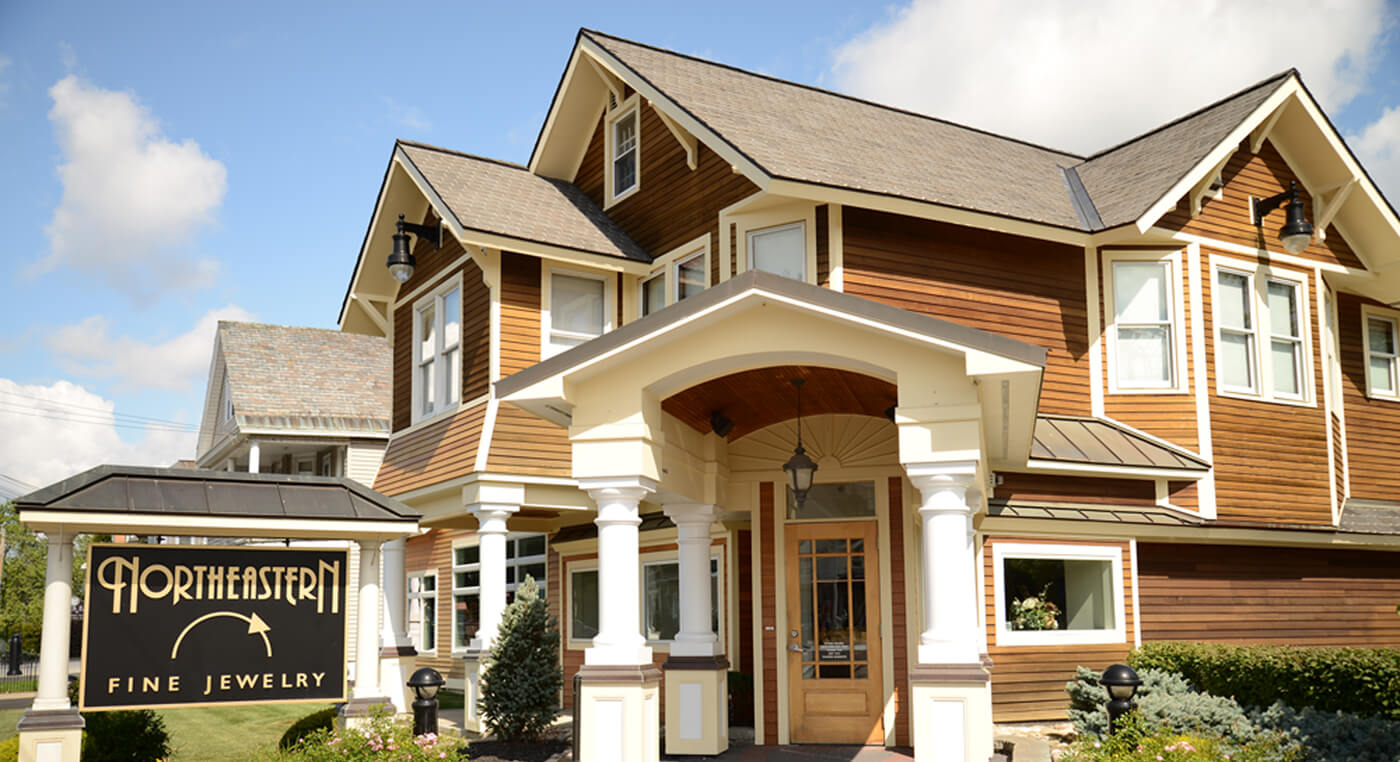 History
Northeastern Fine Jewelry is dedicated to providing the finest quality jewelry for a great value with unconditional devotion to customer satisfaction. Northeastern Fine Jewelry, as it is known today, humbly started in 1980 as The Northeastern Coin Gallery. In 1985, the business was incorporated and the name changed to Northeastern Fine Jewelry Inc. Since 1980, Northeastern has based its business on a simple creed; provide the finest quality jewelry for a great value with unconditional dedication to customer satisfaction.
The application of this simple phrase is what separates Northeastern Fine Jewelry from other jewelry stores. We recognize the need for unparalleled quality and seek to provide jewelry fit for royalty to every customer we serve. Northeastern provides equal services to all, with the goal of a lifelong relationship with each customer from a high-school student with a twenty-dollar budget to an aficionado who will spare no cost.
Currently occupying four locations in upstate New York, Northeastern Fine Jewelry continues to expand. The four storefronts are located at 1607 Union Street, Schenectady, 1575 Western Avenue, Guilderland, 167 Glen St in Glens Falls, and 48 W 48th Street, Manhattan, NYC. Opening in 1980, 1998, and 2004, expansion in the last 10 years has made Northeastern Fine Jewelry the Capitol regions' highest volume jeweler. Along with physical expansion, Northeastern is constantly adding more of the world's highest quality name brands in jewelry and horology.
Along with many lines of designer jewelry, Northeastern provides the service of a master jeweler who can hand-sketch or use sophisticated computer-aided-design to fabricate a unique heirloom to the most precise standards. To cater to the needs of our watch customers, Northeastern Fine Jewelry is proud to provide the services of a certified watchmaker on premises in the Western Avenue store.
Northeastern Fine Jewelry has the ability and desire to satisfy all of your jewelry related needs, from simply adjusting a watchband to fabricating a hand-made, one-of-a-kind, five-carat, flawless, diamond engagement ring.
NYC
Northeastern Fine Jewelry now has an office located in the heart of Manhattan's Diamond District!Situated at 48 W 48th Street, this location is the realization of a dream for owner Ray Bleser and a life long friend and diamond partner Mark Baum(who formerly ran his own wholesale jewelry business).Having partners with such a similar eye for diamonds brings many added benefits to customers, including:
An exponentially larger selection of diamonds to choose from
The same great NEFJ policies and warranties
Price savings up to 30% due to in-house manufacturing and paying cash for our diamonds
Faster delivery
Auction representation
Cash buyers for your diamonds
Distressed diamond inventories to both retail and wholesale customers
Direct access and proximity to hundreds of diamond dealer inventories It's just like being at Northeastern Fine Jewelry – in New York City.
Schenectady Store
1607 Union Street
Schenectady, New York
12309
Telephone number:
1.518.372.3604
Albany Store
1575 Western Avenue
Albany, New York 12203
Telephone number:
1.518.862.9441
Glens Falls Store
167 Glen Street
Glens Falls, New York 12801
Telephone number:
1.518.793.0151
NYC Store
48 W 48th Street
New York, New York 10036
Telephone number:
212.575.2183