GLENS FALLS
In 2017, Northeastern Fine Jewelry acquired Scoville's and continues the tradition of bringing beautiful fine jewelry to Glens Falls. Montgomery and Shirley Scoville founded Scoville Jewelrs in 1952. Chris Scoville and his wife, Debra Vales joined the business about 40 years ago and bought it in 1985, and retiring in 2017. Northeastern Fine Jewelry is dedicated to providing the finest quality jewelry for a great value with unconditional devotion to customer satisfaction. Northeastern Fine Jewelry, as it is known today, humbly started in 1980 as The Northeastern Coin Gallery. In 1985, the business was incorporated and the name changed to Northeastern Fine Jewelry Inc. Since 1980, Northeastern has based its business on a simple creed; provide the finest quality jewelry for a great value with unconditional dedication to customer satisfaction.
Northeastern Fine Jewelry
167 Glen Street Glens Falls, NY 12801
Phone: 1-518-793-0151
Hours of Operation:
MON-WED - 10AM - 6PM
THURS - 10AM - 6PM
FRI - 10AM - 6PM
SAT - 10AM - 4PM
SUN - CLOSED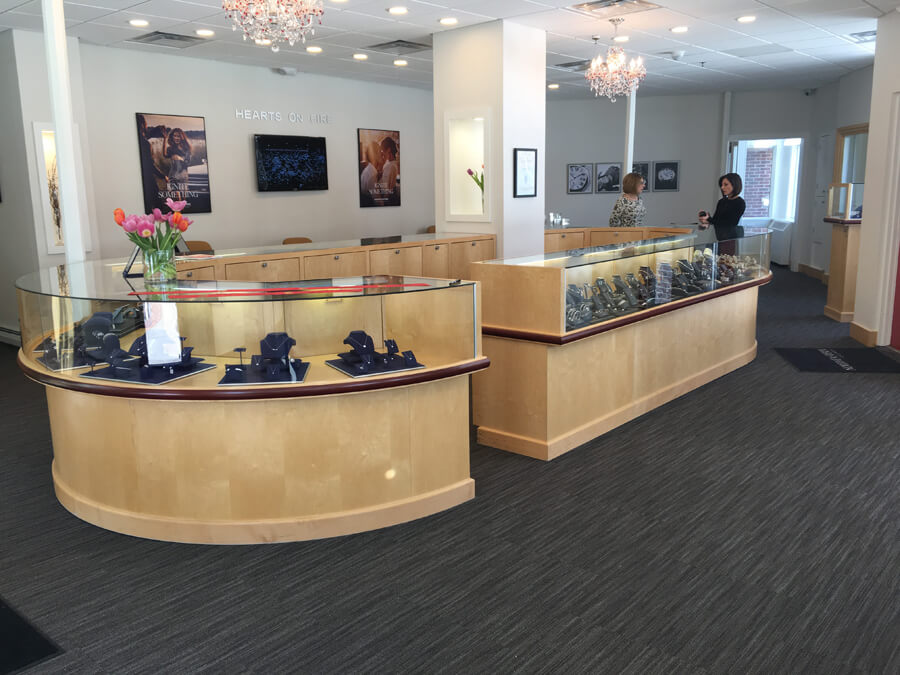 The city of Glens Falls is nestled in the heart of the Adirondack Mountains, the southernmost range of the Laurentian Mountains chain. As one of the oldest mountain ranges on Earth, this treasure of Earth's history has a patina of natural beauty and forested mystery that can't be matched by anywhere else in the world. Glens Falls, benefitting from the scenic course of the Hudson River, the ancient forests and mountains, and the exceptional falls from which the city gets its name, is a place where people come when they want to experience the good life.
At Northeastern Fine Jewelry, we're proud to be a part of this incomparable city, and we strive to add to its beauty with jewelry collections that our customers adore.
Brands Available at Northeastern Fine Jewelry
When you're searching for the right engagement ring with which to pop the question, you'll find our showcases glittering with exceptional brands, ranging from the lacy, diamond-studded grace of Tacori, to the glittering halos favored by Amden, to the weighty ultramodern boldness of Michael M. And afterwards, you'll need a wedding band from a designer like CrownRing, whose etched gold bands and secret diamonds marry atelier craftsmanship with refined beauty. If you're looking for Swiss-quality timepieces and fashion jewelry, designers like Cartier, John Hardy, Panerai, and Marco Bicego are ready to add their iconic styles to your daily look.
Services Offered at Our Glens Falls Jewelry Store
What distinguishes Northeastern Fine Jewelry is that we're a full-service jeweler: We never settle for a one-and-done transaction—we want to be the jeweler you turn to whenever you need any jewelry-related need. To that end, we've expanded our list of services over the decades to ensure that we can help you with practically anything. At our Glens Falls jewelry store, our three full-time jewelers and service coordinators are available to be your first stop for assistance, and our service director is on-call seven days a week!
We offer jewelry and timepiece repair, so you can be confident that no matter what condition your keepsakes are in, we'll be able to breathe new life into them. Our full-time watchmaker, Umberto, has the training to help you with vintage and modern timepiece designs.
If you have dreams of custom jewelry, the Northeastern Fine Jewelry team includes Hike Bagramian, the lead designer for Northeastern Fine Jewelry. His 17 years of experience is bolstered by tutelage from design experts, including Vladimer Mann and Paul Abraham. Hike's skills include rare and exotic design methods, such as working with platinum, which means that no design is too out of the ordinary for us!
Shop at Northeastern Fine Jewelry in Glens Falls, New York
Northeastern Fine Jewelry opened its doors in 1980, and in the decades since, our name has become synonymous with excellence: excellent jewelry, excellent passion for the craft, and excellent services in which our customers have come to trust. When you're looking for something special and jewelry-related, you can come by Northeastern Fine Jewelry anytime!
Alternatively, if you'd like to give us a call, you can contact our Glens Falls jewelry store in New York at 1-518-793-0151.