GUIDE TO WEDDING BAND FINISHES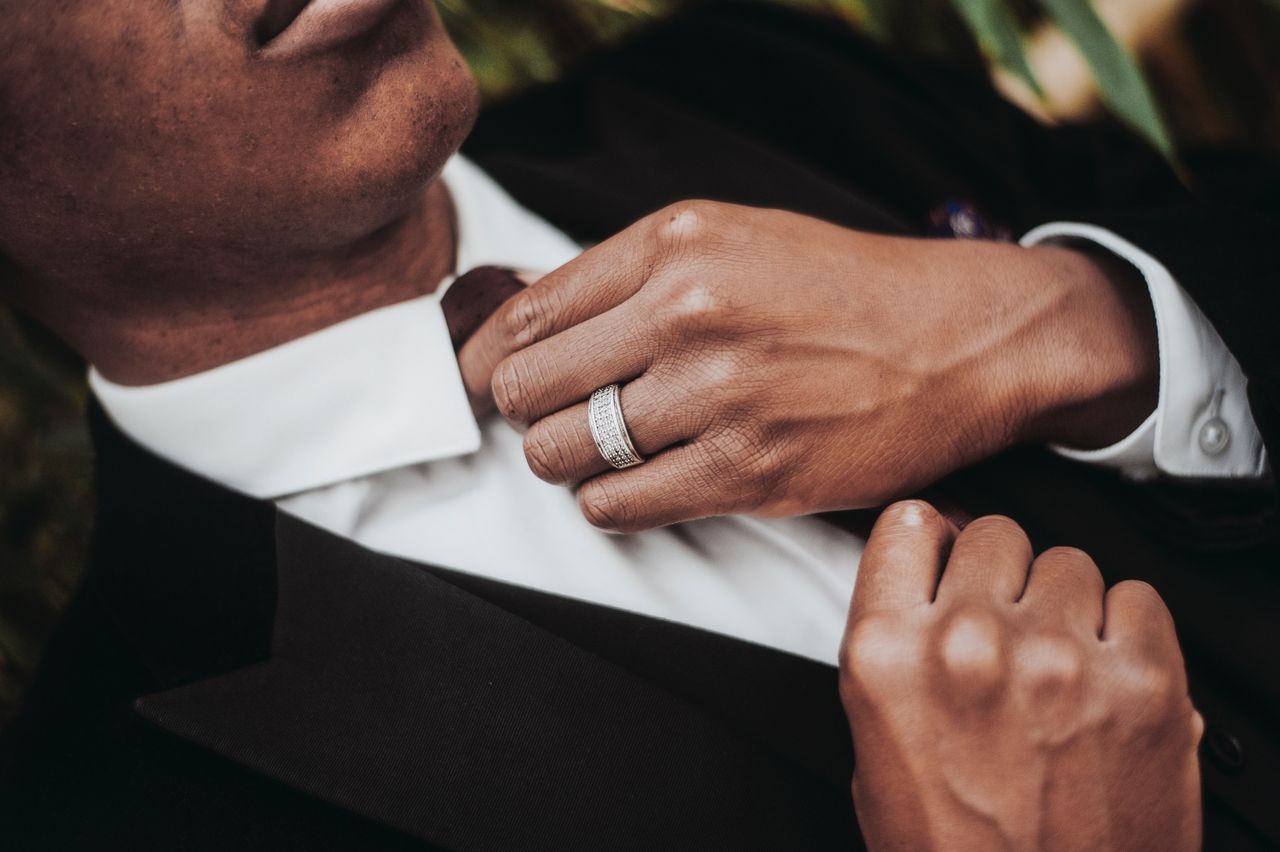 GUIDE TO WEDDING BAND FINISHES
The finish applied to a wedding band can completely transform the tone and style of the ring. There are a few options to choose from for men's wedding bands. From the velvety matte finish to the highly textured sandblasted finish, there is sure to be something to match your aesthetic. Learn about the different finishes and how each one makes a wedding unique with this expert guide.
POLISHED FINISH
A polished finish is a classic choice for a wedding band. Often referred to as the "mirror finish," its reflective surface makes it highly popular because it is captivating and radiates brilliantly. The wedding band's surface is quite smooth, allowing you to see your reflection in the ring. However, it is one of the more high-maintenance finishes, as scratches are very noticeable.
SATIN FINISH
The gentle satin finish is the second most favored option for wedding bands. While not as reflective as the polished finish, it emits a subtle luster. However, the finish's smooth surface also shows scratches more easily. A wedding band with a satin finish is more understated, ideal for the man that craves something elegant and mysterious.
MATTE FINISH
A matte wedding band has a velvet-like surface and is not reflective in comparison to polished and satin wedding bands. The finish absorbs the light instead of reflecting it, creating an opaque appearance. As a result of its design, a matte band displays a muted style that is effortless and refined.
BRUSHED FINISH
A brushed finish is similar to the matte finish due to its non-reflective appearance, however, wedding bands have a very noticeable texture. To achieve the distinctive style of the brushed finish, the surface of the wedding band is lightly scored with a metal brush, leaving tiny strokes on the band. Due to these deliberate marks, scratches can easily blend in with the design.
HAMMERED FINISHES
Hammered finishes have a defined, artistic appearance. A wedding band is first hammered to create texture and dimples on the surface, then a satin finish is applied to give it a more muted tone. These hammers can vary in size and shape, giving rings a unique design with each creation.
SANDBLASTED FINISH
As the name suggests, the sandblasted finish is achieved when sand is sprayed at high pressure against the surface of a wedding band. The outcome is a coarse, grainy texture that is unlike any other finish on the market. A sandblasted wedding band works well for grooms with active lifestyles as flaws are not visible on the band.
FIND YOUR WEDDING BAND AT NORTHEASTERN FINE JEWELRY
At Northeastern Fine Jewelry, we take pride in keeping up with the latest jewelry trends and styles since our founding in the 1980s. As the Capital region's largest volume luxury jeweler, we are eager to assist soon-to-be newlyweds with finding engagement rings and wedding bands. We have top bridal brands like Tacori and Simon G. available at our New York jewelry stores. To learn more about our products and services, call us at 1-855-795-NEFJ.