6 Classic Yellow Gold Engagement Rings Perfect for the Traditional Bride-to-Be
December 10th, 2018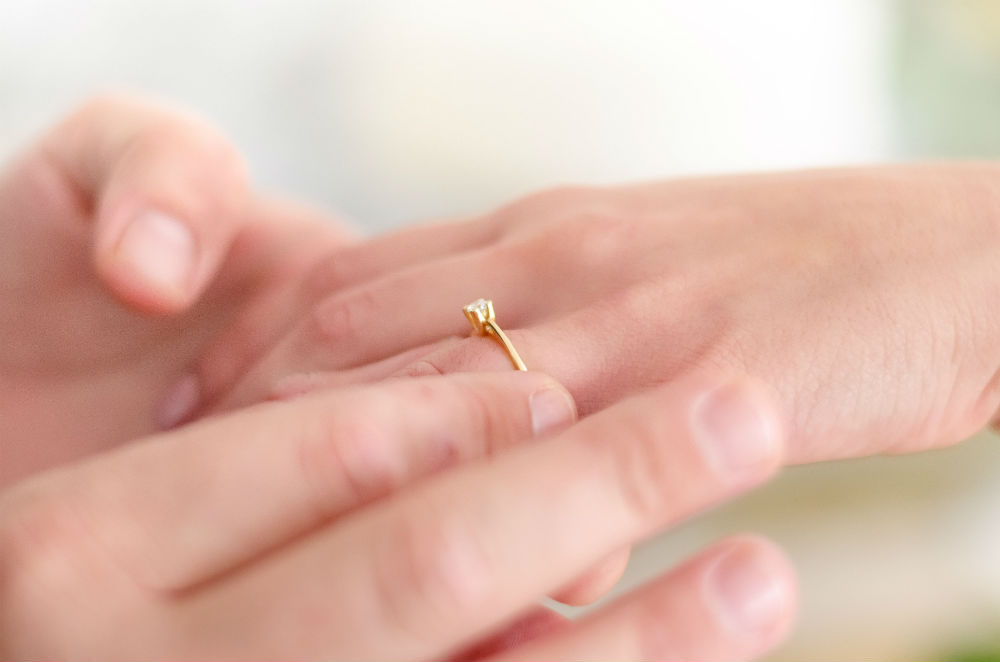 Love is as old as time itself. Many brides would like to get back to this foundational idea with a more traditional engagement ring. There is no better way to make a time-honored statement than with a simple ring forged in yellow gold.
A classic engagement ring is uncomplicated by flashy diamonds and intricate details in the metal. It is a simple band that represents unending love and a dedicated promise to the spouse. While yellow gold engagement rings are traditional, they do not have to be boring or lack individuality. Elegant details can make a ring special to a bride and retain classic sophistication and symbolism.
Classic Yellow Gold Engagement Rings Available at Northeastern Fine Jewelry
The Hearts on Fire Cali Chic collection features classic rings with contemporary twists. This particular ring sparkles with pav? diamonds set into the gold band. Two gold link details keep the piece fresh and frame the timeless round diamond in the center. more
Some brides may worry that a traditional engagement ring will not measure up to the large, ostentatious rings of today, but Tacori's RoyalT solitaires beg to differ. The setting alone has a total carat weight of 0.22. The signature Tacori crescent silhouette is encrusted with diamonds at every possible point. A classic round, vintage oval, or any other shape two carats or larger is sold separately for this setting.

In this sleek RoyalT piece, yellow gold prongs hold the suggested emerald-cut center stone tightly in place and offer a beautiful contrast. Side baguettes are supported by underlying half-moons peppered with sparkling diamonds. As with all RoyalT rings, the center diamond is sold separately; other square-shaped cuts like radiant, princess, cushion, and asscher would also be lovely in this setting.
In Tacori's Coastal Crescent collection, delicate crescents on the interior of the band evoke waves meeting the shoreline. The sharp lines of a square-cut diamond -- princess, emerald, asscher, or cushion -- contrast against the tiny round diamonds on the crescents. Micropav? diamonds add sparkle and fire without overpowering the band.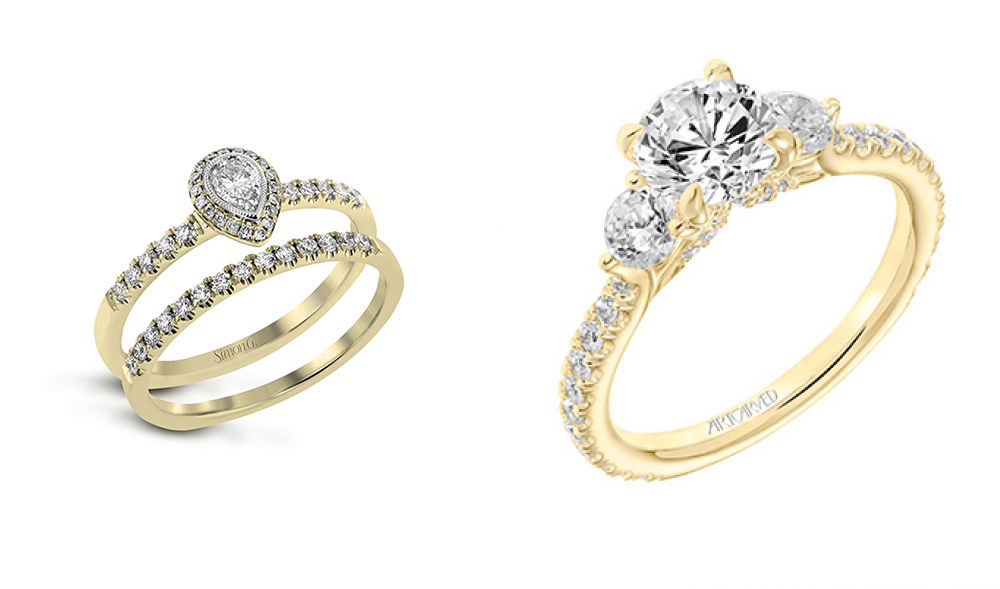 This Simon G. Delicate engagement ring utilizes a bezel setting because prongs would disrupt the perfect curve of the pear-shaped diamond. A halo around the center stone and diamonds along the band create white light against the yellow gold. This ring is part of a full wedding set, so there is no need to search for a separate wedding band that will match.
An ArtCarved Classic, this ring features three traditional round diamonds framed by a flared prong setting. Smaller round diamonds all the way around the eternity band provide a full circle of glittering diamonds. The 14k gold is light and bright.
Visit Northeastern Fine Jewelry Today!
If you are looking for a yellow gold engagement ring, please stop by Northeastern Fine Jewelry to see these exquisite styles for yourself. You may also visit our website, call us at 1-855-795-NEFJ, or send an email to info@nefj.com.