Bridal Accessories to Match Your Wedding Theme
June 12th, 2021
Engagement rings are the most emphasized jewelry pieces when shopping for bridal jewelry. However, if you truly want to feel like a queen on your big day, don't forget the rest of your ensemble! From veils to necklaces, bracelets to earrings, the right bridal accessories can ensure you feel radiant and glowing from every angle.
Whether you are looking for heirloom pieces to pass down to your daughter one day or on-trend jewelry designs that reflect your personal style. At Northeastern Fine Jewelry our selection has everything you need for a magical wedding day.
Bridal Accessories Almost as Beautiful as You Are
There's no one right or wrong way to shop for wedding jewelry. Most couples are first time buyers and are not sure of the process when purchasing jewelry for your wedding day. When starting from scratch you will want an experienced jeweler like Northeastern Fine Jewelry to help you create a look that highlights your unique style. From classic trends to bohemian options, here are some popular jewelry styles we are proud to carry at our store.
Classic Wedding Jewelry
Ask any style maven about the most classic look for weddings and special events, and you will be sure to get one of two answers: diamonds or pearls! Throughout time, these precious gems have continuously been elegant and eye-catching.
Choosing jewelry pieces featuring these precious stones are sure to light up the room. For brides who want to create a timeless look for their weddings, we recommend these elegant pearl and diamond drop earrings from Mikimoto. Made with gleaming white gold, they'll look exquisite with almost any wedding gown. Wear your hair back to let these standout pieces shimmer in the limelight on full display.
Romantic Wedding Jewelry
A wedding is about celebrating a love that withstands the test of time, so it is only logical to show off your romantic side. While hearts are a natural choice for romance, we love the natural beauty of floral-inspired jewelry. For a bold look that complements strapless gowns and v-neck styles, we recommend the Lorelei pendant from Hearts on Fire. This diamond-encrusted necklace is sure to add glitz and glamour to your wedding dress.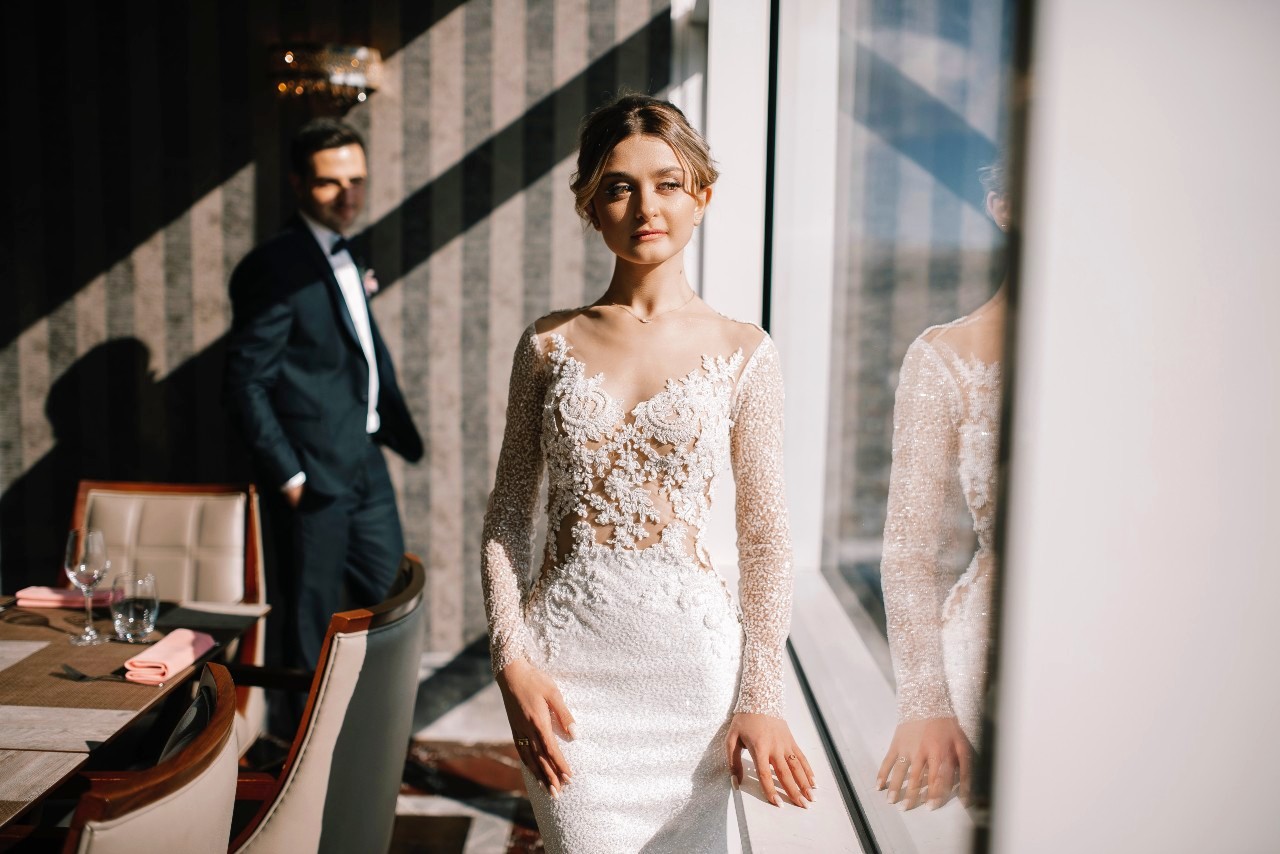 Glam Wedding Jewelry
Do you dream of a wedding that celebrates the beauty of Old Hollywood? If so, then this stunning Christopher Designs solitaire necklace is the key to achieving your dreams. Bold yet elegant, this piece boasts a half-carat, emerald-shaped diamond that is sure to catch the eye while evoking images of a more glamorous era. For best results, pair this necklace with subtle diamond studs or skip the earrings entirely and let the solitaire be the star of the show.
Boho Wedding Jewelry
Not every wedding has to be an elegant affair with crystal vases and champagne goblets. For free-spirited brides who love everything boho, mixed metal jewelry is a fun, fresh option. We are particularly fond of this sleek bangle bracelet featuring white, yellow, and rose gold. Pav? accents keep this piece from being ordinary. Feel free to pair this look with a mixed metal necklace or add multiple bracelets for a funky look that's sure to catch everyone's attention.
Find the Perfect Wedding Accessories at Northeastern Fine Jewelry
At Northeastern Fine Jewelry, we're devoted to outfitting brides on their special day. To that end, we make it easy for you to shop our collections online or at our stores in Schenectady, Albany, Glens Falls, and New York City. Ready to schedule your style consultation with our experts? We look forward to taking your wedding daydreams and making them a reality.