How to Select a Men's Wedding Band
April 12th, 2017
If you are lucky enough to have already received that dazzling engagement ring from your husband-to-be, and are now shopping for your partner's wedding band, your local Northeastern Fine Jewelry has got you covered. As an authorized retailer of today's top designers including ArtCarved, Stuller, and Tacori, we proudly carry a handsome assortment of wedding bands in all styles sure to fit your needs.
Honored to be a part of your upcoming lifechanging experience, we at your neighborhood jewelers have put together a list of things to consider for when you shop for men's wedding bands. Regardless of whether you are shopping with your loved one or you are shopping on your own for that special band, our jewelry experts are always ready to assist in finding the perfect ring.
METAL
Our first suggestion when shopping for bridal necessities, is choice of metal. Designers in our New York-based galleries create wedding bands using a plethora of metals including more commonly used precious metals such as 18-karat yellow and white gold, platinum, 925 sterling silver, and palladium, to the more uncommon metal choices including endearing rose, grey, and black golds, titanium, and tungsten. Ultimately your choice of metal will have the greatest impact in the overall look of the band, so choosing is reliant on personal preference.
WIDTH
Next, consider the width of the band itself. If you are shopping alone, this may be tricky. Width not only affects the look of the band, but wearer comfort. While the average band can range anywhere between 6mm-8mm, at our palatial jewelry stores, you may find bands that start from 3mm all the way to 8mm. While some men prefer thicker bands, others might find the thinner bands more elegant. So, if you're shopping with your significant other, stop by one of our three locations to try on our selections of bands, or if you're on your own, try browsing through some of the rings in your partner's preexisting collection!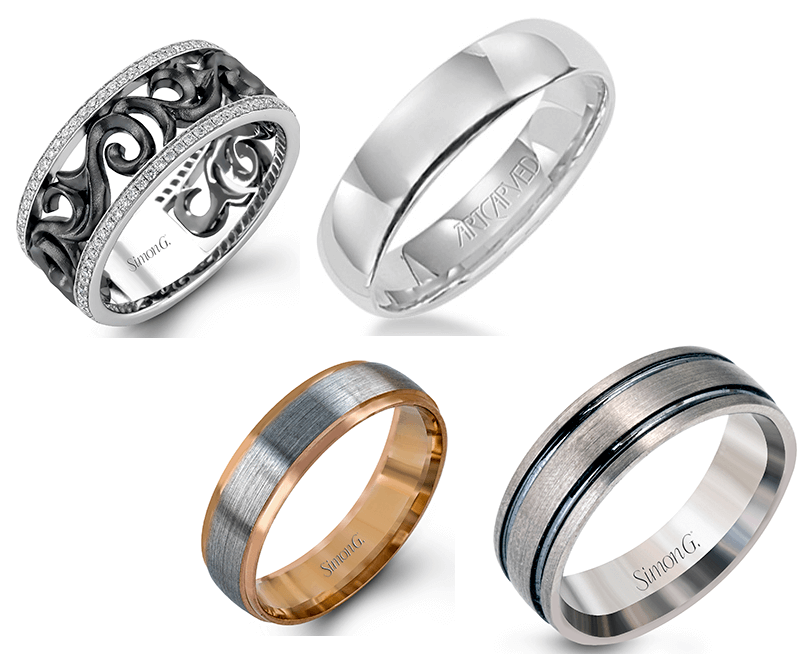 FINISH
Also, for modern wedding bands it is important to think about the type of finish that has been used on the band. The finish is the type of outwardly texture your wedding band will have. Modern bridal wedding band designers find no ends to the types of finishes and looks they incorporate onto their bands. To describe types of finishes, the three most commonly referred to are polished, matte, and hammered.
A polished finish typically has high shine and a reflective surface, a matte, or satin finish, depending on who you are speaking to, will have a softer, hazy look to it, and a hammered wedding band, is inconsistently grooved. Of course, contemporary wedding band designers have come up with interesting textures and mixed and matched bands that showcase the best of conceivable textures.
DETAILING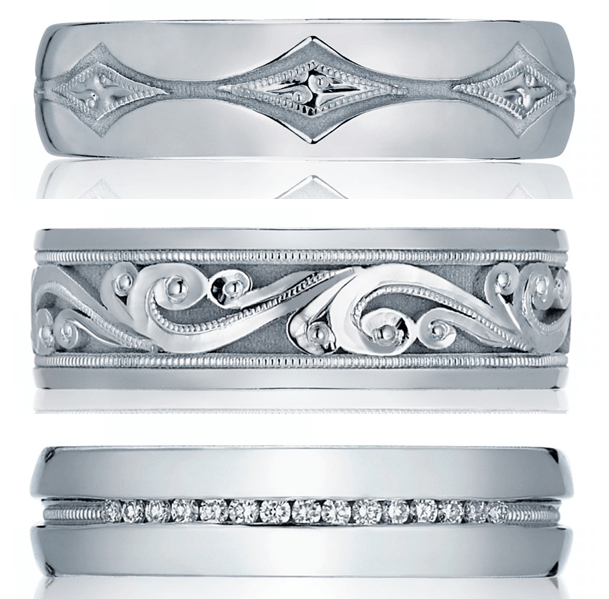 Last, consider detailing. Possibly the most exciting part of bridal jewelry shopping, detailing refers to the many unique design options available for men's wedding bands. While traditionally men's wedding bands were plain and unadorned, modern day weddings bands can have just as many intricate elements as a women's wedding band or more, depending on a man's style. Our designers incorporate different colored stones such as the classic white diamond, elegant sapphires, and striking black diamonds. In addition, innovators, such as Tacori, embellish their bands with intricate regal designs. Still, for those who prefer minimalist designs, we carry a whole host of bands in more classic, sleek looks.
Before coming into one of our three wonderful showrooms, browse through our online catalogue for the latest in our extensive collection of men's wedding bands. If you or your partner have unique wedding bands ideas and are unable to find a match from our designer collections, at Northeastern Fine Jewelry, we have master jewelers ready and awaiting to help you create all your custom design dreams!
SHOP WITH US!
Excited about some of the selections featured? We carry hundreds of the most sought-after designer names in bridal jewelry in many styles and will gladly help you find your fit. For further information on our bridal jewelry, timepieces, and many fashion jewelry items including bracelets, necklaces, earrings, and fashion rings, visit our 'Contact Us''? page, call us at 1.855.795.NEFJ, or even better, visit us in-store at our Schenectady, Albany, or Glen Falls, New York locations. Our friendly jewelry specialists look forward to meeting you!