Ideal Accessories For The Summer
May 20th, 2022
No summer look is complete without the proper jewelry. Freshen up your looks this season with jewelry styles that are sure to stun. Our experts at Northeastern Fine Jewelry have put together a guide to the jewelry styles that are taking the fashion world by storm this summer. Shop these fresh jewelry trends that will instantly elevate any ensemble during this fun season. We are certain that you will want to wear these every day of the hot months ahead.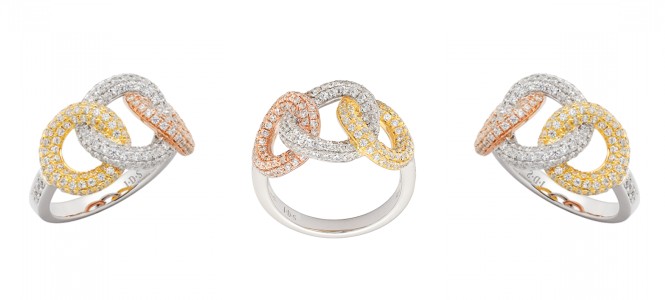 Mixed Metals
Add even more variety to your layered necklaces and stacked fashion rings this summer with mixed metals. Gone are the days when gold and silver worn together would be considered a fashion faux pas. Mixing metals serves to bring another layer of creative contrast to your ensemble.
Start with a piece like this white, yellow, and rose gold ring featuring unique interlocking links. Build a collection of pieces that feature these stunning metals for a dynamic look that expresses your individual aesthetic.
Edgy Cuffs
Utilize the newly available space on your arms this summer with cuff bracelets. These pieces are incredibly versatile as they typically do not feature any chains or clasps, making them easy to put on and take off. They can also be worn in a variety of ways, on the upper arms, forearms, or wrists.
Add a bracelet like this sterling silver cuff by John Hardy with any swimsuit or airy sundress for an edgy yet polished look. The incredible detail in this piece in particular will inspire awe in everyone who sees it.
Oversized Chains
Chain bracelets and necklaces featuring oversized links have been a popular style choice in recent years and this trend does not show any sign of slowing down. For a fresh take on this style, opt for a cool silver or diamond studded piece.
This cable chain necklace from Judith Ripka features subtle metalwork details that provide texture and visual interest. Pair an oversized chain with a few other necklaces of various styles and lengths for a dynamic effect.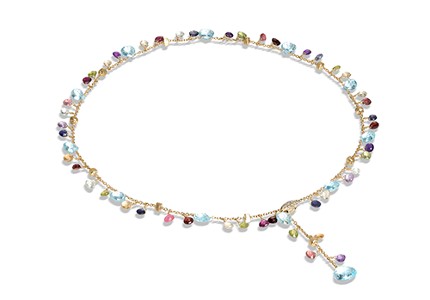 Glittering Chokers
Chokers are back in a bold way this summer. Fashion moguls and influencers alike are opting for sparkling gemstone and diamond studded chokers that glitter with your every move. These close-fitting necklaces pair perfectly with nearly any neckline for a fashion-forward look.
Marco Bicego is a brand renowned for an expert use of colorful gems and this stunning yellow gold choker is no exception. Choose a whimsical piece like this to accent all of your warm weather wear this summer.
Shop Summer Accessories at Northeastern Fine Jewelry
Find all of this season's hottest jewelry styles at Northeastern Fine Jewelry. Each of our New York jewelry stores house cutting edge collections from renowned designers like Hearts On Fire, Lagos, and Tacori, to name a few. Our highly experienced and knowledgeable staff are ever prepared to guide you through our selection to find the perfect pieces to accent your wardrobe this summer.
We are also pleased to offer our customers a number of professional jewelry services such as appraisals, repairs, and custom design. For a luxury experience like no other, book an appointment to meet with our team in one of our stunning showrooms.