Now Trending: Rainbow Gemstone Jewelry
August 6th, 2018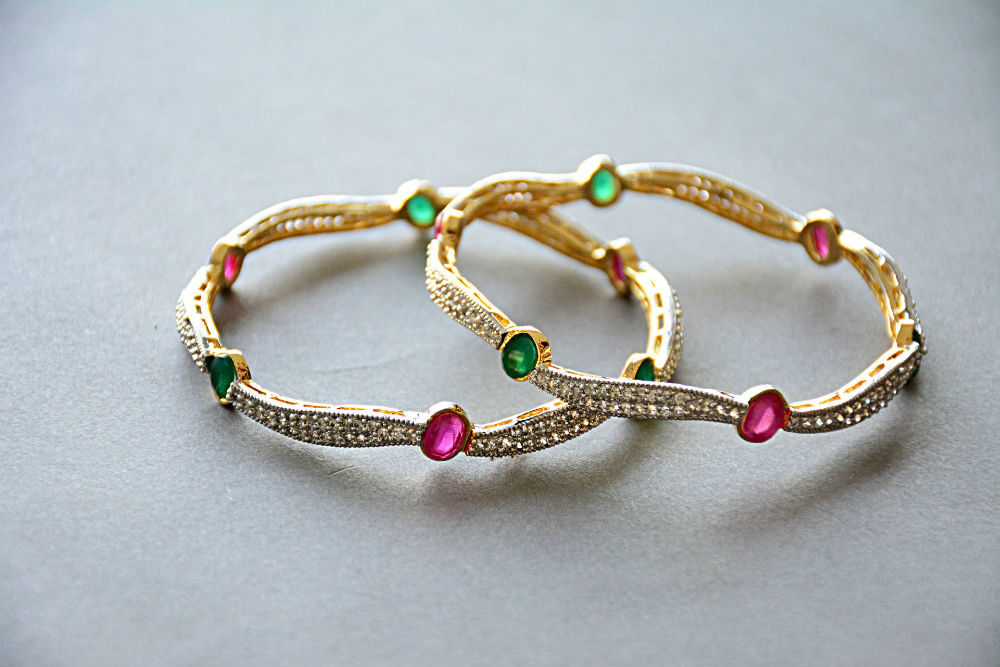 One of the hottest trends in today's fashion world is rainbow gemstone jewelry. This trend has been worn by Hollywood's hottest divas and jet-setting A-list celebrities around the blogosphere and the world. But, this type of jewelry isn't popular with a just those with a big bank roll or a million followers.
Rainbow gemstone jewelry has made its way into popular culture, thanks to the mainstream fashionistas in print and online.
Helping to perpetuate this hot new trend is respected jewelry designer Marco Bicego. His pieces are contemporary in style and unmatched in quality. He is known worldwide for his fine Italian craftsmanship and his creative artistic eye, so it is no wonder that the fashion-forward crowd is clamoring for his designs.
Incorporating Rainbow Gemstone Jewelry Into Your Wardrobe
Why is this jewelry suddenly so popular? Rainbow gemstone jewelry is the perfect accessory because it can be worn with a wide variety of garments and outfits. Whether you're wearing a hot and sassy little black dress, flirty floral sundress or a colorful and casual ensemble, colorful jewelry can compliment it all.
Most fashionistas would agree that every woman should have a "little black dress" hanging in her closet. While this is a wardrobe staple, it can be plain and boring if worn all by itself. Adding the Marco Bicego Paradise necklace and matching Marco Bicego Paradise earrings to a simple black dress will elevate it from plain and boring to chic and eye-catching.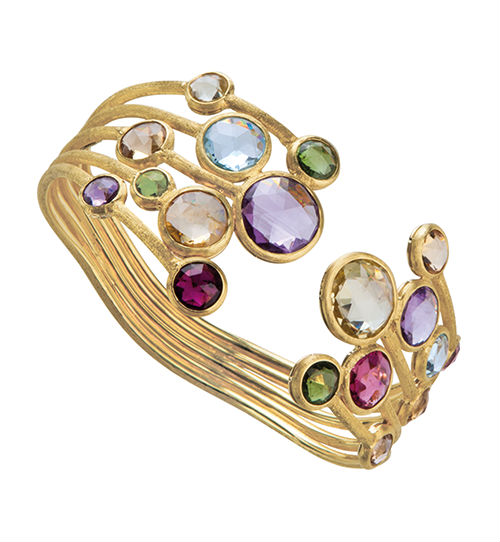 Outfits with colorful patterns or color blocking are sometimes difficult to accessorize, but the Marco Bicego Jaipur bracelet and matching earrings are an ideal accessory choice. With the wide variety of colors in this rainbow gemstone jewelry, you can be sure that your jewelry will match with the colors of your outfit and maybe even your flirty mood.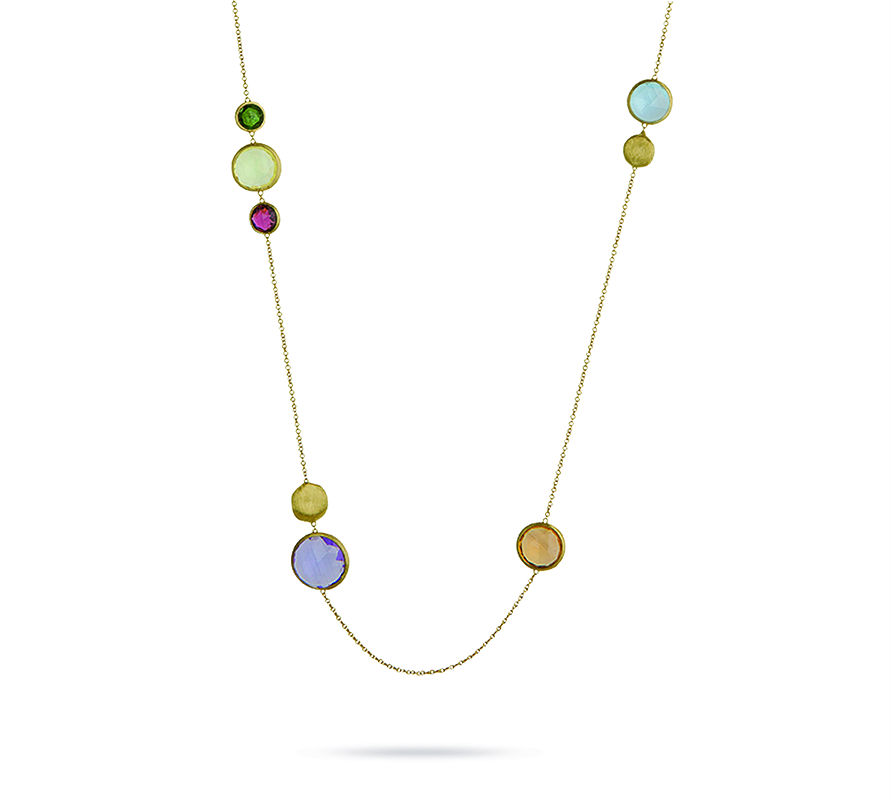 If you like contemporary style clothing, consider adding the sleek Marco Bicego Jaipur Resort necklace to your collection. This beautiful necklace is made from 18K yellow gold and features beautiful bezel set round gemstones. This piece is just as much an art piece as it is an accessory and is the perfect example of the magic that happens in the hands of a masterful designer. This piece of jewelry art would look amazing against a solid white or black blouse.
Looking for a gift? Rainbow jewelry is the perfect choice, even if you don't know her favorite color.
With the wide array of gemstones in a single piece, you are sure to include her favorite gem! And you won't have to worry about getting the wrong size!
Rainbow jewelry may be on-trend, but it is also a good investment. Because of their contemporary styling and classic beauty, these Marco Bicego accessories will be fashionable for years to come. These beautiful pieces are also heirloom quality and are likely to be passed down to future generations.
Acquiring Marco Bicego Jewelry
We are pleased to offer a nice variety of Marco Bicego rainbow gemstone jewelry at Northeastern Fine Jewelry. Marco Bicego incorporates Old World craftsmanship with innovative designs to create beautiful and unique masterpieces. This marriage of meticulous craftsmanship and creative innovation is what makes Marco Bicego such a sought after designer and what makes his jewelry pieces so popular.
If you'd like to purchase or learn more about these high-quality rainbow gemstone jewelry pieces, please do not hesitate to contact us here at Northeastern Fine Jewelry. Our professional staff will be happy to answer your questions and help match you to a piece of jewelry that may be on trend, but is meant to last a lifetime.