Our Favorite Gemstone Jewelry Pieces in Every Color
December 5th, 2021
While diamonds are classic and lovely, sometimes an outfit needs a more colorful touch. Enter the realm of colored gemstones. These touches of brilliant color can add gorgeous accents to any ensemble. Here are some wonderful pieces that making the best of what colorful gemstone jewelry can offer.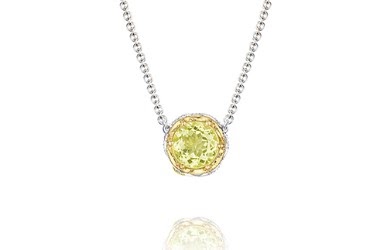 Yellow: Quartz Crystal
Quartz is a versatile and hardy crystal. Some of the more spiritual among us consider quartz to be a healing stone and believe it bestows good luck upon the owner. One of our favorite pieces that use quartz crystal is this Tacori Crescent Crown necklace. The crystal is set in a round, gold bezel. A sterling silver chain can accentuate the distinctive color of the stone and its setting.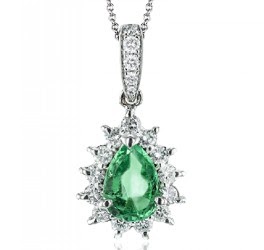 Green: Emerald Gemstone Jewelry
Emerald is a radiant, lively gem imbued with a titular green hue. While there are other green stones, the emerald is distinct in its richness and purity. It is also the birthstone for people born in May, making emerald jewelry an excellent gift for people born during said month.
This gorgeous Simon G. necklace combines this vivacious green emerald with classic, sparkling diamonds. The diamonds accentuate the show-stopping emerald. This necklace is bold, captivating, and dazzling.
Blue: Turquoise Stones
While turquoise is not as brilliant as polished gems like emeralds, it is nonetheless exquisite and colorful. These bright-blue stones are semi-translucent and are often used by Southwestern jewelers and designers around the world in unique ways.
This turquoise Tacori bracelet is an excellent example of the latter's approach. By pairing a turquoise stone with a silver chain, this piece is elegant and intricate. The true beauty of the stone is clear and accentuated by the relatively modest silver.
Red: Ruby
Rubies, legendary for the deep red hue, are symbolic of love and passion. These majestic stones are the most valuable of gemstones, depending on their color and quality. They are also the patron gem of people born in July and are consequently perfect presents for those born in the summer month. This Shy Creation Kate fashion ring is a powerful piece that shows the gem in full. The small but dazzling diamonds along the side in a pave setting dance with the ruby to create a lavish and spectacular display. With a rose gold band, this ring is red-hot and lively.
No Matter The Hue, Northeastern Fine Jewelry's Got It Too
We at Northeastern Fine Jewelry have pieces using these gemstones and many more. We offer a fine selection of designer rings, fashion jewelry, luxury timepieces, and loose diamonds. As the leading jeweler serving the Capital region, we have the variety you and your loved ones deserve. With three separate showrooms, we are always a convenient choice for fine jewelry. We also offer a myriad of services, from custom design to on-site jewelry repair. Contact us to find your closest store.