Picking Women's Wedding Bands: Three Tips to Remember
August 9th, 2017
The engagement ring may garner all the attention when it comes to a couple's wedding, but women's wedding bands are just as important, symbolic, and meaningful. Women's wedding bands, though worn with that stunning and standout engagement ring, are meant to serve as a lasting reminder of your commitment, your wedding day, and your love. Before you say 'I do''? to your other half, you'll need to say 'I do''? to a beautiful band. Picking out your wedding band is an important part of preparing for your big day, and Northeastern Fine Jewelry in New York can guide you to the perfect choice. Keep the following three tips in mind as you narrow down your options and discover what women's wedding bands best suit you.
1. Decide What Wedding Band Qualities You Want
Women's wedding bands come in a vast variety of choices and styles. Some bands are as simple as can be, crafted out of shaped metal and free of any gemstones or decorative details. Yet other wedding bands are more ornate, sprinkled with diamonds or other colorful gems. Still other bands are something of an in-between, mixing metal with simple style and just a few details.
Before you begin shopping, try to narrow down your options so you don't feel overwhelmed by what you see in store. Ask yourself some easy questions:
Do you want any diamonds or gemstones on the band'
Is there a band that is made to match your engagement ring? If so, do you like the style'
Do you want a simple ring, or a ring that's meant to stand out'
Will your wedding band match your partner's'
Do you want your band to match the metal of your engagement ring'
Does your engagement ring require a special shape or curved band to fit under the center stone'
2. Know the Benefits of Different Metal Choices
Platinum. White gold. Yellow gold. Tungsten. You've probably heard of these different metals, but do you know their advantages and disadvantages? Learn a little more about the different types of metal before heading in to pick your women's wedding band.
Yellow gold is a traditional choice, practical and easy to match. Yet yellow gold is often soft and not as durable as other choices. White gold is an alloyed mix of yellow gold and other metals, silvery and light in its coloring. It's a bit harder than yellow gold, but can show signs of wear over years. Rose gold blends copper with gold, creating a warm, rich color. Lastly, platinum is one of the most popular choices because it's hypoallergenic, durable, and weighty. It can be, however, one of the most rare and pricey choices.
Some bands do feature a combination of metal types, so you can opt for a choice like the Stuller 5991, which combines yellow gold and white gold. Accent your women's wedding band with rose gold detail like the Tacori Sculpted Crescent 98-3WR. Or, you can choose something more dramatic like the Simon G Modern Enchantment MR2338, blending diamonds and pink diamonds as well as rose gold with white gold.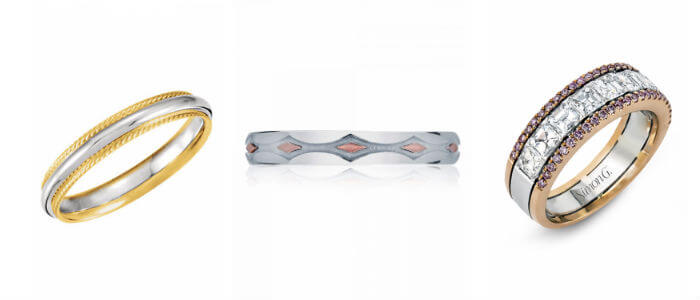 3. Your Band Doesn't Have to Pair Perfectly with Your Engagement Ring
Although women's wedding bands are worn on the same finger as the engagement ring, brides-to-be don't need to feel pressured if they adore a wedding band that doesn't perfectly match their first ring. The engagement ring and wedding band are separate pieces, and while choosing matching sets is popular, you should feel free to choose whatever catches your eye. Mix colors of metal; opt for shimmering stones if you want more sparkle; keep it simple if you wish. There's no wrong or right way to pair these two rings.

Want a standout, stylish band? Pick women's wedding bands that feature sizeable diamonds or unique detailing. The Simon G Vintage Explorer TR473 swirls diamonds into leaf-like shapes, while the Tacori Classic Crescent HT2530 shines with layers of stones. Prefer simple and clean style? Wedding bands like the Tacori Sculpted Crescent 79-3 keep things simplistic yet stylish, whereas the Stuller Wedding Band 255 adds a bit of flair.

Another option is a shaped women's wedding band. These bands feature a curve that's designed to accommodate, or fit perfectly underneath, the center stone of an engagement ring. You can choose one that's clean and delicate, like the Tacori Ribbon Wedding Band 3004B and the Simon G Delicate Wedding Band MR1676-D, or opt for something with more personality like the Tacori Simply Tacori HT2299B. Whatever shape or style you choose, the wedding band that makes you smile is the one that makes for a gorgeous pairing.
Find the Right Women's Wedding Band at Northeastern Fine Jewelry
Begin your search for the perfect wedding band with New York's best: Northeastern Fine Jewelry. Dedicated to providing high-quality jewelry alongside exceptional customer service and support, Northeastern Fine Jewelry has been the place to find fine jewelry at a great value since 1980. We specialize in engagement rings, wedding bands, and fashion jewelry for everyday wear—and our highly skilled team of jewelry experts offers guidance in every step of your shopping experience. Visit our locations in Schenectady, Albany, New York City, or Glens Falls to find your women's wedding band, send an email to info@nefj.com for more details, or give us a call at 1-855-795-NEFJ.