What You Need to Know about Hearts on Fire Engagement Rings
June 5th, 2018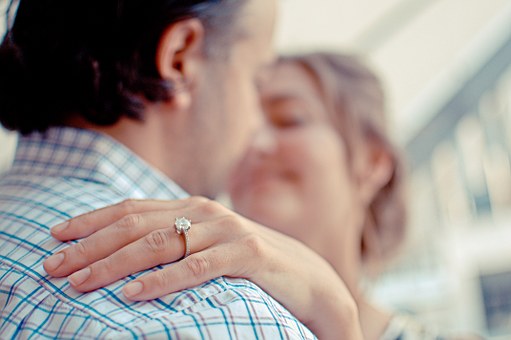 Proposing to a significant other is never easy, although one of the hardest parts is picking out what kind of engagement ring to buy. There are a plethora of engagement ring designers and collections out there, all of them promising quality diamond engagement rings.
However, before buying an engagement ring it helps to know everything there is to know about your designer of choice.
For that reason, we have put together a comprehensive guide to buying diamond engagement rings from the fantastic designer Hearts on Fire. Hearts on Fire has many engagement rings in their collection, and with a little bit of guidance, you can purchase the one ring bound to 'wow? the love of your life.
Who is Hearts on Fire'
Hearts on Fire was founded by Glenn and Susan Rothman in 1996 on the idea of crafting quality artisan jewelry pieces. These brilliant designers have revolutionized the jewelry industry and more importantly, the diamond. For each wedding band, fashion ring, pendant, and engagement ring is a diamond created by the hands of master craftsmen.
While this is an impressive feat, Hearts on Fire offers more than just finely made diamonds. They also bring a passion for creating loving and emotional memories that will last a lifetime.
The Breathtaking Destiny Collection
Hearts on Fire is known the world around for their high-quality diamonds, and they aren't ashamed to show it. Destiny is one of their many spectacular diamond engagement ring collections.
In the Destiny collection, they implement a style that dares to be different. This collection uses a wide variety of diamond cuts, from the classic round cut to the iconic pear cut.
Hearts on Fire also breaks away from the norm, by crafting bands that stand out just as much as the center diamond. The bands in the Destiny collection into a uniquely brilliant twist design that naturally attracts the eye and is intrinsically modern. If you want a ring that is going to take her breath away, a piece from the Destiny collection may help you make that possible.
The Euphoria Collection and Honoring Tradition
When buying an engagement ring, many grooms-to-be have an idea of what kind of ring they expect to find. These expectant rings are dazzling classics, fitted with a massive center diamond, and a halo of accompanying diamonds that add to the compelling aura. Hearts on Fire's Euphoria collection is precisely what many proposers imagine.
Set with Hearts on Fire's patented dream cut, a halo of glimmering diamonds, and a band made from 18 karats of white gold, the rings in this collection elicit the same emotion their name implies, euphoria.
Transcend a Typical Engagement with the Transcend Collection
Crafting something innovative is difficult. New and brilliant ideas come from years of experience, practice, and skill. That said, Hearts on Fire leans into their innovative ideas with their Transcend engagement ring collection, and they manage to create something remarkable.
Much like their other engagement ring collections, Hearts on Fire places their revolutionary dream cut diamond front and center. These engagement rings would make a perfect fit for any bride-to-be who isn't afraid to stand out and impress. With the Transcend collection, Hearts on Fire reaches for new ideas while still staying true to their standard of quality and brilliance.
Purchasing an Engagement Ring from Northeastern Fine Jewelry
If there is any fine jewelry provider that understands the beauty and magnificence of Hearts on Fire engagement rings, it's Northeastern Fine Jewelers. Northeastern has state-of-the-art showrooms in Albany, Glen Falls, New York City, and Schenectady, New York.
Founded in 1980, Northeastern provides the greater Capitol Region area with more than just engagement rings, but they are also a certified retailer of wedding bands, fashion jewelry, and luxury Swiss-made timepieces. Northeastern also provides professional jewelry services such as timepiece repairs and custom jewelry designs.
If you want to know more visit one of their showrooms or check out their wide selection online at NEFJ.com.